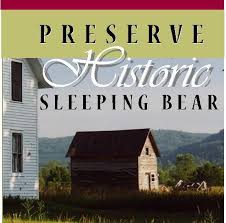 Catch the Vision
Preserve Historic Sleeping Bear has a mission but we also have a vision.
Our vision is that all historic properties in the Park are preserved. That funds have been secured to ensure they will safely endure far into the future. That many simply grace the landscape as picturesque embellishments of the beauty in which they are set. Visitors respectfully and curiously stroll the properties, peek in windows, sit on the front porch – moved to contemplation, imagination and inspiration.
A few farms have a different destiny – chosen to be revived and given new life through adaptive-reuse. Our first step towards re-use was in restoring and becoming the caretaking partner for the Charles and Hattie Olsen House that welcomes visitors to Port Oneida as our home office and an interpretive center.
A major focus going forward will be on the adaptive-use aspect of our vision. We have identified places for use as a living history farm, and unique accommodations that will be in keeping with the character of the landscape while aiding their preservation for years to come.
Making a difference with your help
We invite you to catch the vision that has been the dreams of many since we started this work in 1998. These resources belong to all of us – and it will take all of us to care for them. All we need is you. If you share our vision, we invite you to Become a Steward of Sleeping Bear.